Hero Hanzo Mobile Legends, Si Assassin Mematikan !!!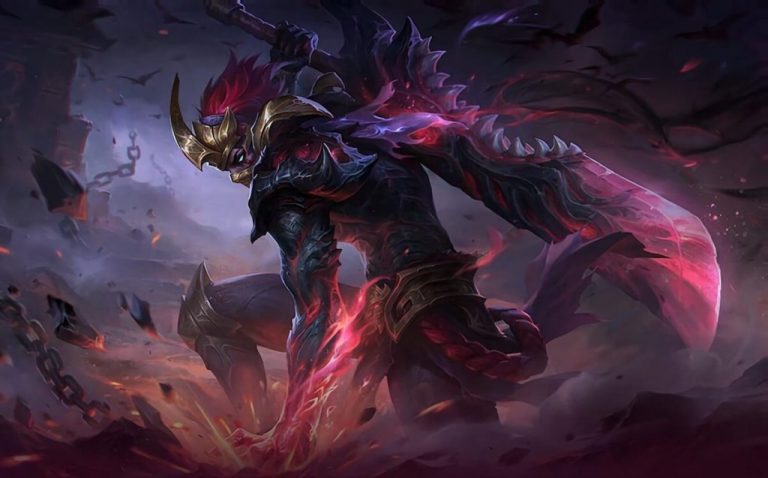 Meskipun baru dirilis, Hanzo telah sukses masuk ke dalam META terbaru Mobile legend. Si Assassin Ninja ini, dapat dengan mudah mengobrak – abrik musuh dan membunuh musuh dengan kombo skill 2 dan skill 1 nya. Jika kalian ingin membeli Hanzo ini, maka kami sarankan untuk mengecek beberapa kekurangan dan kelebihan Hanzo si Assassin ini.
Kelebihan
Berikut adalah beberapa kelebihan Hanzo yang dapat kalian buktikan sendiri pada saat bertarung melawannya :
1. Hero Assassin yang sangat Licin
Hanzo merupakan hero yang sangat susah untuk ditangkap, hal ini karena skill ultimate nya yang dapat membagi tubuhnya menjadi 2 yaitu : tubuh aslinya dan tubuh bayangannya. Pada saat menggunakan ultimate, Hanzo dapat menggerakkan bayangannya dan meninggalkan tubuh aslinya di tempat yang aman (Biasanya di Tower ataupun semak). Masalahnya adalah ketika bayangannya dibunuh, hal ini cuman memberikan efek stun dan efek slow kepada Hanzo, namun ketika Hanzo sendiri berada cukup jauh dari musuh, kedua efek tersebut sama sekali tidak berguna dalam menghentikan Hanzo.
2. Easy Jungle
Salah satu kelebihan Hanzo sebagai hero assassin adalah kemampuannya untuk mengambil jungle musuh hanya dengan menggunakan 1 skill. Skill 1 nya dapat digunakan untuk memakan jungle creeps apapun. Dengan kata lain, Hanzo dapat dengan mudah mendapatkan buff, di early game bahkan tanpa bantuan hero lainya, danjika orang yang menggunakan hanzo cukup pro, ia juga dapat dengan mudah mendapatkan Buff Emas.
3. Easy Kill and Target
Hal yang membuat Hanzo paling mengesalkan di dalam game adalah kemampuannya untuk dengan mudah mentarget musuh. Skill 2 dari Hanzo memiliki range yang cukup besar, membuatnya dapat dengan mudah mentarget marksman, Mage dan hero – hero lainnya. Ditambah lagi dengan skill 1 nya yang dapat mengurangi 15% dari HP Musuh. Hanzo menjadi musuh yang paling mengerikan di dalam game.
4. Easy Farming
Selain Easy Jungle, Hanzo juga dapat dengan mudah menFarming dan membersihkan minion. Hal ini dikarenakan skill 2 dari Hanzo sendiri yang dapat digunakan untuk menyerang musuh setiap 0.5 detik selama 4.5 detik, dalam area yang cukup besar. Parahnya lagi skill ini memiliki Cooldown yang cukup singkat dan kemampuan untuk menslow musuh. Hanzo tidak perlu menggunakan basic attacknya saat farming, hanya dengan satu skill 2 saja, ia dapat membersihkan lane dengan cepat.
5. 6 Skill yang dapat mematikan lawan
Terlepas dari Kagura, Hanzo adalah hero lain yang memiliki 6 skill yang dapat digunakan untuk membunuh lawannya dengan mudah. Parahnya lagi kesemua skill tersebut berguna untuk membunuh musuh dengan cepat, membuatnya menjadi salah satu hero dengan kemampuan yang mematikan.
Kekurangan
Terlepas dari kelebihan yang dapat dibaca diatas, tentu saja kalian juga ingin mengetahui kekurangan Hanzo sebelum membelinya, Berikut adalah beberapa kekurangan Hanzo :
1. Conditional Skill
Skill 1 dari Hanzo, baik dalam mode hantu maupun dalam mode tubuh asli memiliki syarat sebelum dapat digunakan yaitu harus memukul musuh, baik itu creep, jungle, hero selama 5 kali, memang saja skill 1 dari Hanzo dalam kedua mode sama bergunanya, namun didalam war, hal tersebut tidak terlalu berguna karena ia selain harus menunggu cooldown dari kedua skill tersebut, namun juga harus melakukan basic attack kepada hero musuh selama 5 kali sebelum menggunakannya.
BACA JUGA Update Terbaru Game Battle Royale Rules of Survival Hadirkan Perubahan Siklus Siang dan Malam!
2. Skill ultimate yang bergantung bar
Walaupun Hanzo memiliki ultimate cooldown yang cukup singkat, Ultimate hanzo memerlukan Demon Blood yang direpresentasikan dalam bentuk bar dibawah Health Bar hanzo (Berwarna merah). Demon Blood tersebut bisa didapatkan pada saat Hanzo berada di dekat hero, Jungle, ataupun Creep yang mati. Dan parahnya lagi, ketika user Hanzo lupa tentang bar tersebut, tubuh dari Hanzo akan terbang ke arah bayangan tersebut, dan membuat Hanzo dapat dibunuh dengan mudah.
3. Low Health
Walaupun hal ini merupakan salah satu masalah bagi para assassin manapun, Hanzo adalah satu – satunya assassin yang memiliki health point yang paling sedikit dibandingkan yang lainnya (Skill 2 dan Skill 1 dari Eudora dapat dengan mudah membunuhnya, tanpa menggunakan Ultimate di late game). Hal ini cukup masuk akal, karena jika Hanzo memiliki Health yang cukup tebal, ia akan menjadi assassin yang paling mematikan didalam game.
4. Tanpa Ultimate, Kill Hampir Mustahil
Seperti yang disebutkan diatas, Hanzo memiliki Low Health, karena ia adalah hero yang dikhususkan untuk menggunakan skill ultimatenya untuk membunuh musuh. Oleh karena itu, sangat tidak disarankan untuk maju saat menggunakan Hanzo, karena sebelum ia dapat membunuh, ia akan mati duluan. Selain itu, jika ia menggunakan tubuh biasanya untuk maju, ia hanya akan memiliki 1 skill attack saja yaitu skill 2 nya.
5. Ketahuan = Mati
Skill Ultimate hanzo mengharuskan hanzo untuk bersembunyi, meninggalkan tubuh aslinya agar dapat menyerang musuh dengan aman. Ditambah dengan low health nya, ia tidak dapat menyerang musuh secara langsung. Masalahnya adalah, ketika assassin musuh pergi mencari Hanzo pada saat Hanzo sedang menggunakan ultimatenya, kita tidak akan menerima notifikasi bahwa tubuh asli kita sedang diserang. Parahnya lagi hanzo tidak memiliki skill yang dapat digunakannya untuk melarikan diri. Jika ia dikejar oleh seorang marksman, ataupun assassin. Tamatlah sudah riwatnya. Oleh karena itulah orang yang menggunakan Hanzo harus mahir dalam bersembunyi.
Nah, itulah beberapa kekurangan dan kelebihan yang dimiliki oleh Hanzo, Bagaimana dengan pendapat kalian bagi yang sudah menggunakan hero yang satu ini. Ya, hero ini mungkin memang terlihat OP, namun jika dilawan dengan musuh yang tepat, ia akan menjadi hampir tidak berguna.